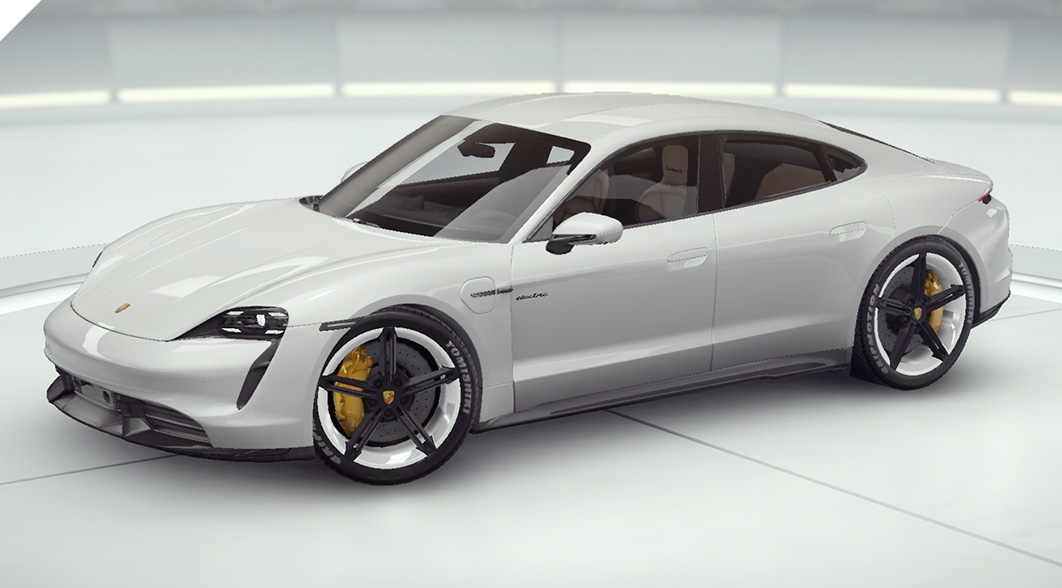 Car Information
| Class | Type | ⛽ Fuel | ⏱ Refill Time | In Game |
| --- | --- | --- | --- | --- |
| D | Rare | 5 | 15 Minutes | Update 11 – 03/2020 |
Performance Data
| | | | | |
| --- | --- | --- | --- | --- |
| Max 4⭐ | Topspeed | Acceleration | Handling | Nitro |
| Stock | 260 | 74.8 | 52.49 | 37.96 |
| 1⭐ | 264.8 | 76.62 | 57.24 | 42.76 |
| 2⭐ | 269.7 | 78.92 | 63.23 | 47.7 |
| 3⭐ | 274.7 | 81.28 | 69.35 | 52.76 |
| 4⭐ | 279.2 | 83.74 | 75.77 | 57.18 |
The Porsche Taycan Turbo S changes its top speed depending on the type of nitro that is used. Blue Nitro has higher Top Speed than Normal/Orange & Purple Nitro
| | | | |
| --- | --- | --- | --- |
| Blue Nitro: 304 km/h | Other Nitro: 291 km/h | Air Speed: 386 km/h | Drift Speed: 231 km/h |
Ranks
| Stock | 1⭐ | 2⭐ | 3⭐ | 4⭐ |
| --- | --- | --- | --- | --- |
| 1274 | 1616 | 1988 | 2369 | 2724 |
Blueprints
| 1⭐ | 2⭐ | 3⭐ | 4⭐ | Total Blueprints |
| --- | --- | --- | --- | --- |
| 30 | 23 | 33 | 42 | 128 |
Upgrades & Import Parts
| Stage | Credits x4 | Total |
| --- | --- | --- |
| Stage 0 | 4.370 | 17.480 |
| Stage 1 | 7.100 | 28.400 |
| Stage 2 | 11.400 | 45.600 |
| Stage 3 | 17.100 | 68.400 |
| Stage 4 | 24.700 | 98.800 |
| Stage 5 | 34.500 | 138.000 |
| Stage 6 | 48.500 | 194.000 |
| Stage 7 | 68.000 | 272.000 |
| Stage 8 | 95.000 | 380.000 |
| Stage 9 | 133.000 | 532.000 |
| Stage 10 | 186.000 | 744.000 |
| Stage 11 | Max | 2.518.680 |
| Import Parts | Amount | Credits | Total |
| --- | --- | --- | --- |
| Common | 28 | 20.000 | 560.000 |
| Rare | 8 | 40.000 | 320.000 |
| Epic | 4 | 120.000 | 480.000 |
| | | Upgrades | 2.518.680 |
| | | Total Cost: | 3.878.680 |
Porsche Taycan Turbo S Description
The Porsche Taycan is a battery electric saloon and shooting brake produced by German automobile manufacturer Porsche. The concept version of the Taycan, named the Porsche Mission E, debuted at the 2015 Frankfurt Motor Show. The Taycan was revealed fully production-ready at the 2019 Frankfurt Motor Show.
As Porsche's first series production electric car, it is sold in several variants at different performance levels, and may spawn further derivatives in future models.
More than 20,000 Taycans were delivered in 2020, its debut sale year, representing 7.4% of the total Porsche volume. A modified Taycan S is the current Formula E Safety car.
Porsche Cars
Tags
Asphalt 9 Porsche Taycan Turbo S
Porsche Taycan Turbo S Upgrades
Porsche Taycan Turbo S Import Parts
Porsche Taycan Turbo S Blueprints
Porsche Taycan Turbo S Credits
Porsche Taycan Turbo S Max Stats
(Visited 36,511 times, 1 visits today)
Tags:
Class D Car
,
porsche
,
Update 11