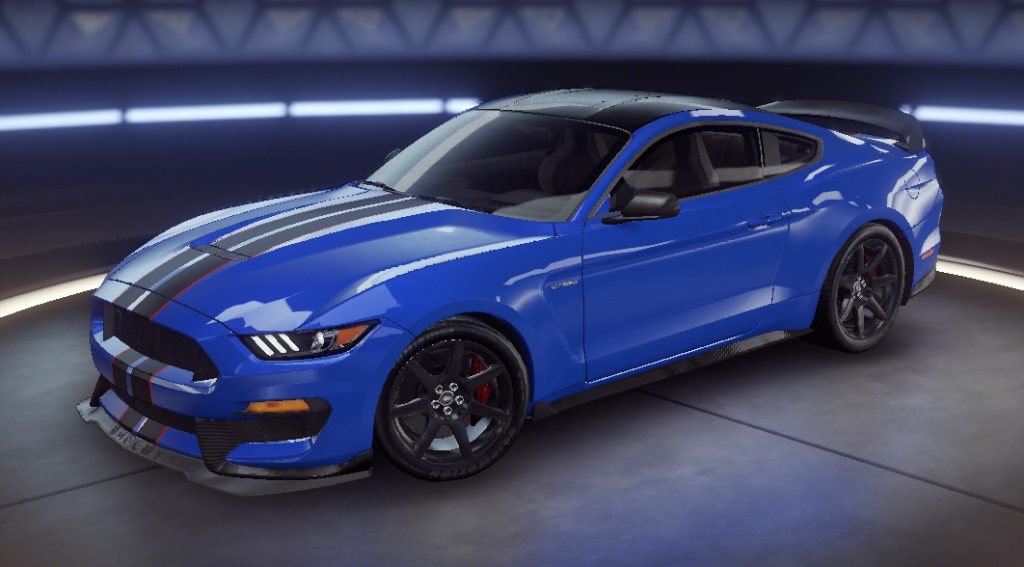 Car Information
| Class | Type | ⛽ Fuel | ⏱ Refill Time | In Game |
| --- | --- | --- | --- | --- |
| D | Rare | 5 | 15 Minutes | since Release |
Performance Data
| | | | | |
| --- | --- | --- | --- | --- |
| Max 4⭐ | Topspeed | Acceleration | Handling | Nitro |
| Stock | 276 | 64.9 | 47.58 | 34.38 |
| 1⭐ | 281.8 | 66.98 | 49.9 | 38.98 |
| 2⭐ | 288 | 69.6 | 52.83 | 43.73 |
| 3⭐ | 294.3 | 72.26 | 55.82 | 48.61 |
| 4⭐ | 299.9 | 75.06 | 58.97 | 52.93 |
| | | |
| --- | --- | --- |
| Nitro Speed: 313 km/h | Air Speed: 400 km/h | Drift Speed: 207 km/h |
Ranks
| Stock | 1⭐ | 2⭐ | 3⭐ | 4⭐ |
| --- | --- | --- | --- | --- |
| 1121 | 1442 | 1810 | 2183 | 2548 |
Blueprints
| 1⭐ | 2⭐ | 3⭐ | 4⭐ | Total Blueprints |
| --- | --- | --- | --- | --- |
| 20 | 12 | 18 | 28 | 78 |
Upgrades & Import Parts
| | | |
| --- | --- | --- |
| Stage | Credits x4 | Total |
| Stage 0 | 2.190 | 8.760 |
| Stage 1 | 3.600 | 14.400 |
| Stage 2 | 5.700 | 22.800 |
| Stage 3 | 8.600 | 34.400 |
| Stage 4 | 12.400 | 49.600 |
| Stage 5 | 17.500 | 70.000 |
| Stage 6 | 24.000 | 96.000 |
| Stage 7 | 34.000 | 136.000 |
| Stage 8 | 47.500 | 190.000 |
| Stage 9 | 66.500 | 266.000 |
| Stage 10 | 93.000 | 372.000 |
| Stage 11 | Max | 1.259.960 |
| | | | |
| --- | --- | --- | --- |
| Import Parts | Amount | Credits | Total |
| Common | 28 | 10.000 | 280.000 |
| Rare | 8 | 20.000 | 160.000 |
| Epic | 4 | 60.000 | 240.000 |
| | | Upgrades | 1.259.960 |
| | | Total Cost: | 1.939.960 |
Ford Shelby GT350R Car Hunt
Car Hunt: Ford Shelby GT350R
Task
Reward
1 x Finish Race
1 x Ford Shelby GT350R Blueprint
350 x Beat 38s
1 x Car Hunt Event Pack
350 x Beat 35s
1 x Car Hunt Event Pack
5 x Beat 32s with Lotus Elise Sprint 220
1 x Ford Shelby GT350R Blueprint
5 x Beat 33s with Porsche 911 Targa 4S
1 x Ford Shelby GT350R Blueprint
Track:
City Dash
Car Hunt Riot: Ford Shelby GT350R
Task
Reward
Qualify in the Top 1%
2 x Ford Shelby GT350R Import Part
10 x Event Pack+
10 x Import Parts Pack
Qualify in the Top 5%
1 x Ford Shelby GT350R Import Part
8 x Event Pack+
8 x Import Parts Pack
Qualify in the Top 25%
6 x Class C Rare Parts
6 x Event Pack+
6 x Import Parts Pack
Qualify in the Top 50%
4 x Class C Rare Parts
4 x Event Pack+
4 x Import Parts Pack
Qualify in the Top 100%
2 x Class C Rare Parts
2 x Event Pack+
2 x Import Parts Pack
Track:
Bridge Finale
Ford Shelby GT350R Description
At the 2015 North American International Auto Show a more track-focused, hardcore and limited production version of the GT350 was unveiled called the GT350R, benchmarked against the Chevrolet Camaro Z28 and Porsche 911 GT3. The GT350R retains the GT350's 5.2-liter flat plane crank V8 engine, producing the same power, but grip was significantly increased by the means of wider Michelin Pilot Sport Cup 2 tires, Carbon Revolution carbon fiber wheels (the first ever fitted to a mass-production road car) each weigh approximately 15 pounds less than the aluminum wheels on the GT350, and significantly more downforce thanks to a larger splitter and carbon-fiber rear wing to keep the car stuck to the ground. Items like the air conditioning, stereo, trunk floorboard, all the carpeting, the rear seats, and the backup camera could be removed from the factory resulting in the GT350R weighing 130 lb (59 kg) less than the GT350.
Serial #001 was sold at the 2015 Barrett-Jackson Scottsdale Auction for US$1,000,000 with the proceeds to benefit the JDRF.
The GT350R won Road & Track magazine's 2016 "Performance Car of the Year" (PCOTY) and Car and Driver magazine's "10 Best Cars" for 2016.
Ford Cars
Tags
Asphalt 9 Ford Shelby GT350R
Ford Shelby GT350R Upgrades
Ford Shelby GT350R Import Parts
Ford Shelby GT350R Blueprints
Ford Shelby GT350R Credits
Ford Shelby GT350R Max Stats
(Visited 20,728 times, 11 visits today)
Tags:
Car Hunt Events
,
Cars
,
Class D Car
,
Ford