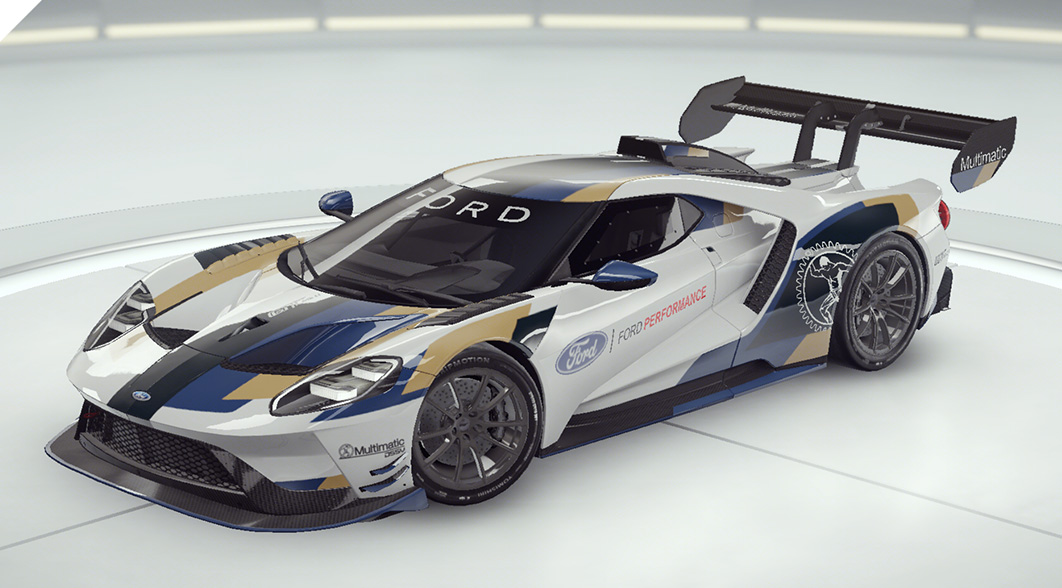 Car Information
| Class | Type | ⛽ Fuel | ⏱ Refill Time | In Game |
| --- | --- | --- | --- | --- |
| B | Rare | 5 | 1:40 Hours | Update 13 – 07/2020 |
Performance Data
| | | | | |
| --- | --- | --- | --- | --- |
| Max 4⭐ | Topspeed | Acceleration | Handling | Nitro |
| Stock | 300 | 76.6 | 57.8 | 49.12 |
| 1⭐ | 303 | 78.39 | 61.73 | 52.58 |
| 2⭐ | 307.3 | 81.16 | 67.78 | 57.95 |
| 3⭐ | 311.7 | 83.81 | 73.61 | 63.34 |
| 4⭐ | 315.5 | 86.26 | 79 | 67.88 |
| | | |
| --- | --- | --- |
| Nitro Speed: 329 km/h | Air Speed: 419 km/h | Drift Speed: ? km/h |
Ranks
| Stock | 1⭐ | 2⭐ | 3⭐ | 4⭐ |
| --- | --- | --- | --- | --- |
| 1970 | 2199 | 2552 | 2898 | 3200 |
Blueprints
| 1⭐ | 2⭐ | 3⭐ | 4⭐ | Total Blueprints |
| --- | --- | --- | --- | --- |
| Key | 35 | 55 | 85 | 175 |
Upgrades & Import Parts
| Stage | Credits x 4 | Total |
| --- | --- | --- |
| Stage 0 | 5.750 | 23.000 |
| Stage 1 | 9.400 | 37.600 |
| Stage 2 | 15.000 | 60.000 |
| Stage 3 | 22.500 | 90.000 |
| Stage 4 | 32.500 | 130.000 |
| Stage 5 | 45.500 | 182.000 |
| Stage 6 | 63.500 | 254.000 |
| Stage 7 | 89.000 | 356.000 |
| Stage 8 | 125.000 | 500.000 |
| Stage 9 | 175.000 | 700.000 |
| Stage 10 | 245.000 | 980.000 |
| Stage 11 | Max | 3.312.600 |
| Import Parts | Amount | Credits | Total |
| --- | --- | --- | --- |
| Common | 24 | 40.000 | 960.000 |
| Rare | 16 | 80.000 | 1.280.000 |
| Epic | 8 | 240.000 | 1.920.000 |
| | | Upgrades | 3.312.600 |
| | | Total Cost: | 7.472.600 |
Ford GT MK II Description
A track-day-only version of the new GT, named the GT Mk II, was launched on 4 July 2019 at the Goodwood Festival of Speed. The name pays homage to the original GT40 Mk II race car that won the 1966 24 Hours of Le Mans.
The GT Mk II features many substantial changes from the road car that increase its capabilities on the track. The 3.5 L EcoBoost V6 engine has been tuned and is rated at over 700 hp (522 kW; 710 PS), which is cooled by a roof-mounted air intake and new outboard-mounted intercoolers. The removal of the adjustable ride height system and the stripped-out interior reduces the overall weight of the Mk II by about 200 pounds (91 kg) over the road car. The active spoiler has been replaced by a much larger fixed wing, which in combination with a larger diffuser and new aerodynamic elements results in a 400% increase in downforce over the road car. The GT Mk II uses smaller 19-inch wheels and Michelin Pilot Sport GT slick racing tires, although it shares the GT's carbon ceramic brakes.
As a result of these changes, the GT Mk II is not street legal. Only 45 will be built, and at a unit price of US$1.2 million it is the most expensive new Ford ever sold. The Mk II, however, is not sold by Ford but rather directly to customers by Multimatic, the Canadian manufacturer of all GT cars.
Ford Cars
Tags
Asphalt 9 Ford GT MK II
Ford GT MK II Upgrades
Ford GT MK II Import Parts
Ford GT MK II Blueprints
Ford GT MK II Credits
Ford GT MK II Max Stats
(Visited 27,596 times, 4 visits today)
Tags:
Car Hunt
,
Car Hunt Events
,
Class B Car
,
Ford
,
Grand Prix Event Cars
,
update 13