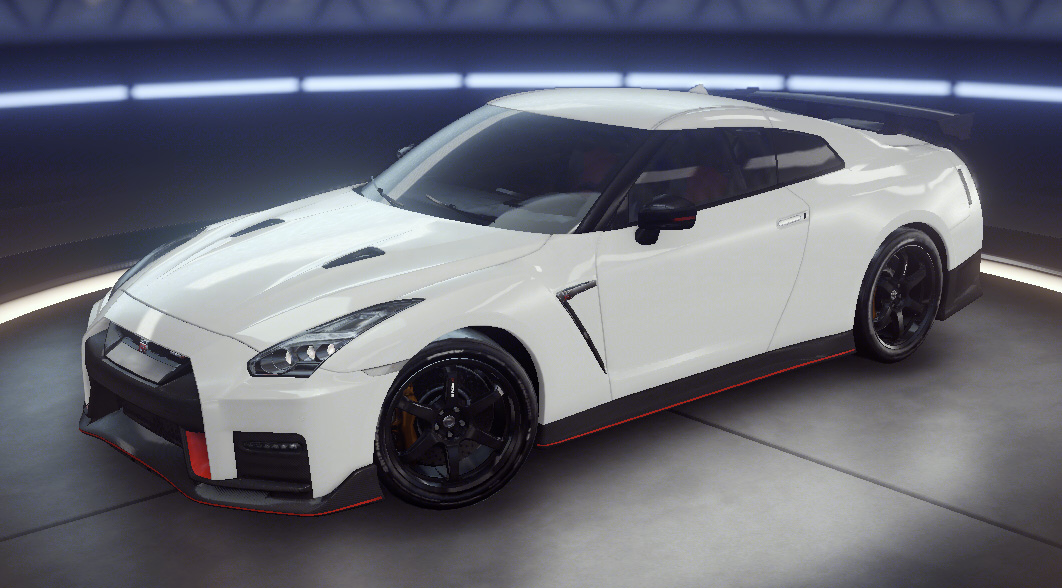 Car Information
| Class | Type | ⛽ Fuel | ⏱ Refill Time | In Game |
| --- | --- | --- | --- | --- |
| A | Rare | 5 | 3 Hours | Release |
Performance Data
| Max 4⭐ | Topspeed | Acceleration | Handling | Nitro |
| --- | --- | --- | --- | --- |
| Stock | 315 | 77,5 | 48,8 | 43,24 |
| Max | 329,7 | 84,83 | 60,69 | 60,6 |
| | | |
| --- | --- | --- |
| Nitro Speed: ? km/h | Air Speed: ? km/h | Drift Speed: ? km/h |
Ranks
| Stock | 1⭐ | 2⭐ | 3⭐ | 4⭐ |
| --- | --- | --- | --- | --- |
| 2083 | 2324 | 2580 | 2875 | 3157 |
Blueprints
| 1⭐ | 2⭐ | 3⭐ | 4⭐ | Total Blueprints |
| --- | --- | --- | --- | --- |
| 45 | 21 | 28 | 42 | 136 |
Upgrades & Import Parts
| Stage | Credits x4 | Total |
| --- | --- | --- |
| Stage 0 | 3.220 | 12.880 |
| Stage 1 | 5.300 | 21.200 |
| Stage 2 | 8.400 | 33.600 |
| Stage 3 | 12.600 | 50.400 |
| Stage 4 | 18.200 | 72.800 |
| Stage 5 | 25.500 | 102.000 |
| Stage 6 | 35.500 | 142.000 |
| Stage 7 | 50.000 | 200.000 |
| Stage 8 | 70.000 | 280.000 |
| Stage 9 | 98.000 | 392.000 |
| Stage 10 | 137.000 | 548.000 |
| Stage 11 | Max | 1.854.880 |
| Import Part | Amount | Credits | Total |
| --- | --- | --- | --- |
| Common | 20 | 25.000 | 500.000 |
| Rare | 20 | 50.000 | 1.000.000 |
| Epic | 8 | 150.000 | 1.200.000 |
| | | Upgrades | 1.854.880 |
| | | Total Cost: | 4.554.880 |
Car Hunt Riot: Nissan GT-R Nismo
Task
Reward
Qualify in the Top 5%
2 x Nissan GT-R NISMO Import Part
10 x Event Pack +
10 x Import Parts Pack
Qualify in the Top 10%
1 x Nissan GT-R NISMO Import Part
8 x Event Pack +
8 x Import Parts Pack
Qualify in the Top 25%
6 x Class-A Rare Parts Pack
6 x Event Pack +
6 x Import Parts Pack
Qualify in the Top 50%
4 x Class-A Rare Parts Pack
4 x Event Pack +
4 x Import Parts Pack
Qualify in the Top 100%
2 x Class-A Rare Parts Pack
2 x Event Pack +
2 x Import Parts Pack
Track:
Bridge Finale
Nissan GT R Nismo Description
Nissan introduced the track focused, GT-R Nismo at 2013 Tokyo Motor Show,[104] as the world's fastest production vehicle around the Nürburgring Nordschleife with a lap time of 7:08.679 minutes driven by Nissan test driver Michael Krumm.
In the new model, power increases to 447.5 kW (608 PS; 600 hp) at 6,800 rpm and 652 N⋅m (481 lb⋅ft) of torque at 3,200-5,800 rpm. The 0–97 km/h (0–60 mph) time changed to 2.5 seconds. The gear-ratios did not change in the dual-clutch transmission. The fuel tank capacity is 74 L (19.5 US gal; 16.3 imp gal). Additional front and rear brake cooling ducts are added, and a full Nismo tuned suspension and brakes are installed, including a hollow 17.3 mm (0.68 in) rear stabilizer bar from the Nismo performance division.
Special edition forged alloys by RAYS in 20-inch size wheels with Nismo-spec Dunlop SP Sport Maxx GT 600 DSST CTT run-flat tyres are included. The standard GT-R's aluminium trunk lid is swapped out for a full carbon fibre panel and additional spot welds and adhesive help strengthen the chassis. A front splitter with carbon fibre air ducts up front add to the special Nismo full aerodynamic package, while a large racing-style carbon-fibre wing completes the rear.
Inside, the Nismo edition has special Recaro bucket seats with a black and red colour treatment made with synthetic suede. The instrument binnacle and steering wheel are also covered in Alcantara synthetic suede. The Bose stereo system does not have active noise control. The gauges have some red colour treatment as well. Nismo-specific options are low-gloss matte gray paint and a full titanium exhaust with additional heatsinks. These changes, in aggregate, reduced weight to 1,720 kg (3,792 lb), which is 17 kg (38 lb) lighter than the standard GT-R, which is the reason that the Nismo GT-R accelerates even faster than before.
Nissan Cars
Tags
Asphalt 9 Nissan GT R Nismo
Nissan GT R Nismo Upgrades
Nissan GT R Nismo Import Parts
Nissan GT R Nismo Blueprints
Nissan GT R Nismo Credits
Nissan GT R Nismo Max Stats
(Visited 20,740 times, 3 visits today)
Tags:
Car Hunt Events
,
Cars
,
Class A Car
,
Nissan