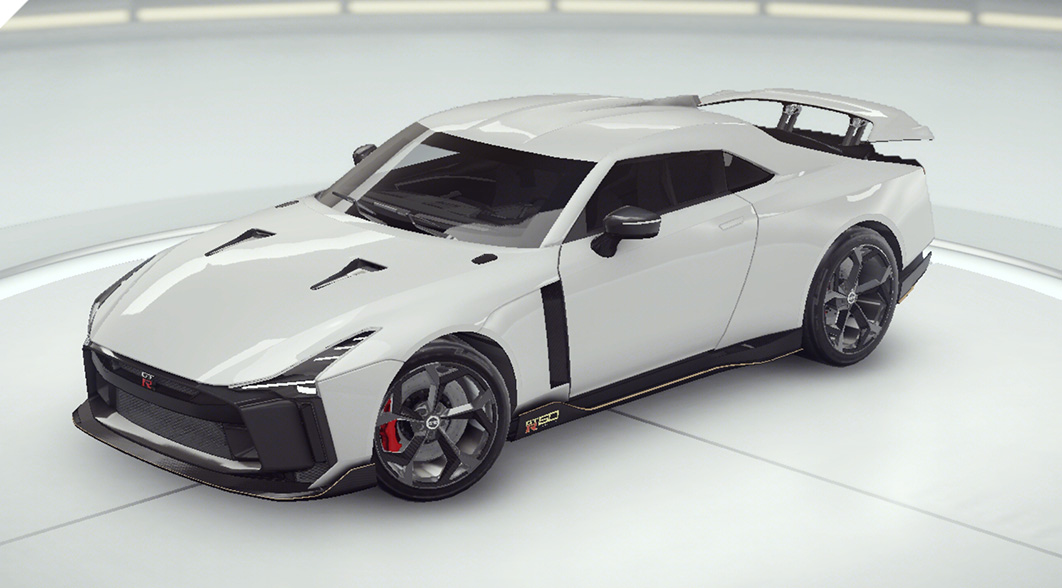 Car Information
| Class | Type | ⛽ Fuel | ⏱ Refill Time | In Game |
| --- | --- | --- | --- | --- |
| B | Epic | 4 | 2:20 Hours | Update 22 – 12/2021 |
Performance Data
| | | | | |
| --- | --- | --- | --- | --- |
| Max 5⭐ | Topspeed | Acceleration | Handling | Nitro |
| Stock | 330 | 76.6 | 44.93 | 39.8 |
| 1⭐ | 332.7 | 77.83 | 48.55 | 43.46 |
| 2⭐ | 336.5 | 79.8 | 54.38 | 48.18 |
| 3⭐ | 339.7 | 81.62 | 59.77 | 52.24 |
| 4⭐ | 344.5 | 84.01 | 66.88 | 58.59 |
| 5⭐ | 349.5 | 86.36 | 73.86 | 64.59 |
| | | |
| --- | --- | --- |
| Nitro Speed: ? km/h | Air Speed: ? km/h | Drift Speed: ? km/h |
Ranks
| Stock | 1⭐ | 2⭐ | 3⭐ | 4⭐ | 5⭐ |
| --- | --- | --- | --- | --- | --- |
| 2089 | 2372 | 2775 | 3136 | 3652 | 4153 |
Blueprints
| 1⭐ | 2⭐ | 3⭐ | 4⭐ | 5⭐ | Total Blueprints |
| --- | --- | --- | --- | --- | --- |
| 45 | 17 | 23 | 32 | 45 | 162 |
Upgrades & Import Parts
| Stage | Credits | Total |
| --- | --- | --- |
| Stage 0 | 7.820 | 31.280 |
| Stage 1 | 12.800 | 51.200 |
| Stage 2 | 20.400 | 81.600 |
| Stage 3 | 30.600 | 122.400 |
| Stage 4 | 44.200 | 176.800 |
| Stage 5 | 62.000 | 248.000 |
| Stage 6 | 86.500 | 346.000 |
| Stage 7 | 121.500 | 486.000 |
| Stage 8 | 170.000 | 680.000 |
| Stage 9 | 237.500 | 950.000 |
| Stage 10 | 333.000 | 1.332.000 |
| Stage 11 | 466.000 | 1.864.000 |
| Stage 12 | Max | 6.369.280 |
| Import Parts | Amount | Credits | Total |
| --- | --- | --- | --- |
| Common | 32 | 50.000 | 1.600.000 |
| Rare | 20 | 100.000 | 2.000.000 |
| Epic | 8 | 300.000 | 2.400.000 |
| | | Upgrades | 6.369.280 |
| | | Total Cost: | 12.369.280 |
Nissan GTR-50 Italdesign Gallery
Nissan GTR-50 Italdesign Description
To celebrate the GT-R's 50th anniversary, Nissan has announced that, in 2019, they will introduce a limited-production GT-R called the GT-R50. Only fifty of these cars will be produced. The GT-R50 shares its powertrain with the GT-R Nismo but is rated at 530 kW (721 PS; 711 hp) and 780 N⋅m (575 lb⋅ft) of torque.
Upgrades to the engine include large diameter turbochargers shared with the GT3 specification GT-R, a heavy-duty crankshaft, pistons and connecting rods, a modified intake system, a new exhaust system, a recalibrated gearbox, and a reinforced differential. The rear suspension system uses Bilstein continuously variable dampers and the car uses carbon-ceramic brakes. The GT-R50 comes standard in 21-inch carbon-fibre wheels with Michelin Pilot Super Sport tyres.
The design of the bodywork is a result of a collaboration between Italdesign and Nissan, with the former celebrating its 50th anniversary in 2018. Construction of the bodywork is mainly of aluminium and carbon-fibre.
It was originally shown as a concept car not intended for production. Nissan decided to produce fifty of them to celebrate Nissan's 50th anniversary but it was delayed 2 years to 2020 due to modifications required to make it road legal.
The design was developed by a team of Nissan's European and American designers and has been described as a "car within a car". The front and back sections are designed so they appear to be emerging from the bodywork. Key design elements include a redesigned rear section, stretched LED headlamps at the front, a power bulge on the hood, a lowered roofline, and "Samurai blade" cooling ducts behind the front wheels.
Production version of GT-R 50
The first production model of the GT-R50 was revealed in May 2020 in Italy. It retains all the design elements of the prototype such as the new headlamps, the bumper designs, splitters, rocker panels, active rear wing, hollow taillamps, and dual tailpipes.
Nissan Cars
Tags
Asphalt 9 Nissan GTR-50 Italdesign
Nissan GTR-50 Italdesign Upgrades
Nissan GTR-50 Italdesign Import Parts
Nissan GTR-50 Italdesign Blueprints
Nissan GTR-50 Italdesign Credits
Nissan GTR-50 Italdesign Max Stats
(Visited 11,130 times, 1 visits today)
Tags:
Class B Car
,
Nissan
,
Update 22