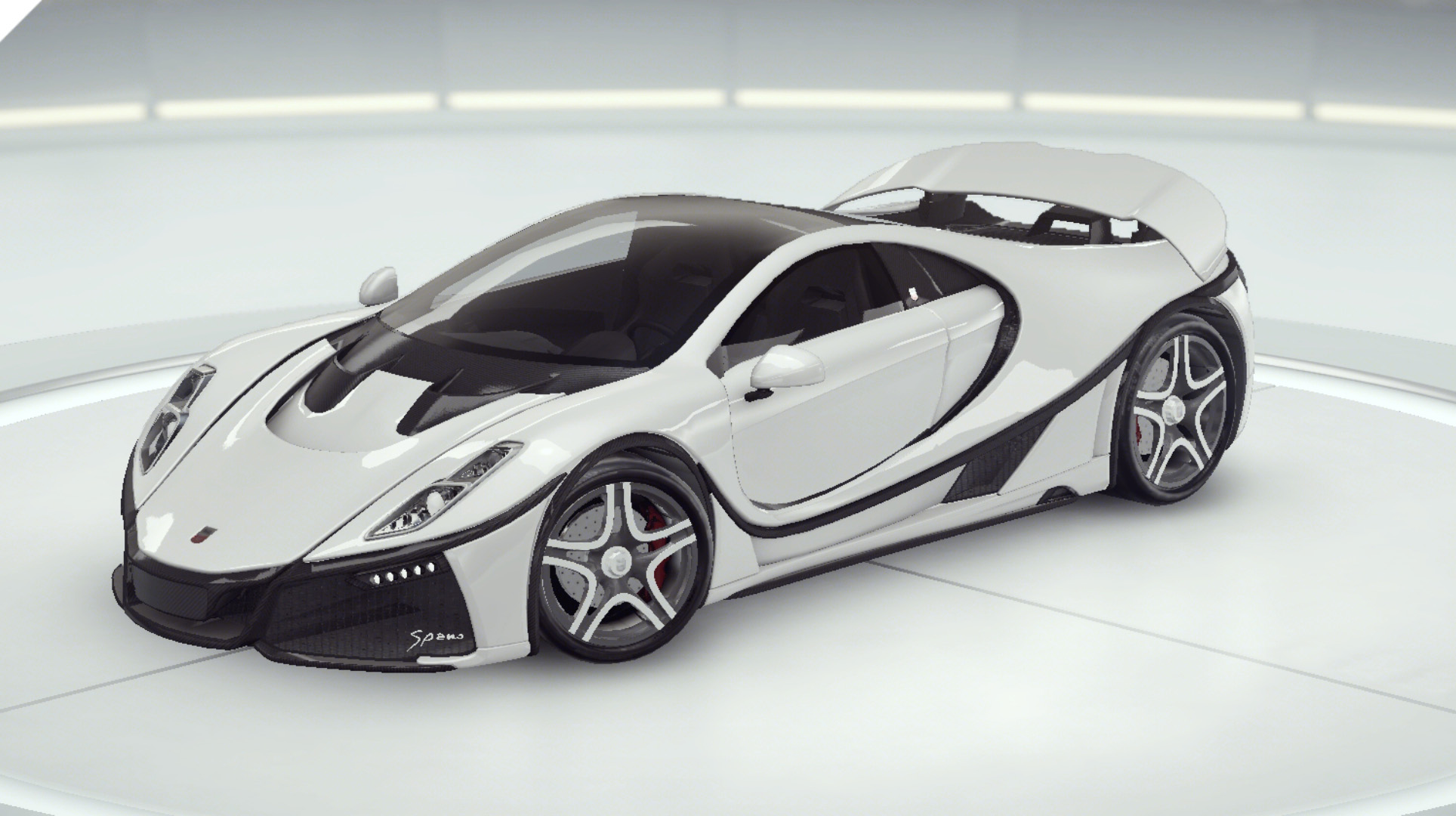 Car Information
| Class | Type | ⛽ Fuel | ⏱ Refill Time | In Game |
| --- | --- | --- | --- | --- |
| S | Epic | 3 | 6 Hours | Update 29 – 02/2023 |
Performance Data
| Max  6⭐ | Topspeed | Acceleration | Handling | Nitro |
| --- | --- | --- | --- | --- |
| Stock | 373 | 73.9 | 49.08 | 53.09 |
| 1⭐ | 374.2 | 74.84 | 50.48 | 55.29 |
| 2⭐ | 375.8 | 75.97 | 52.12 | 57.88 |
| 3⭐ | 377.5 | 77.16 | 53.87 | 60.62 |
| 4⭐ | 379.2 | 78.42 | 55.72 | 63.4 |
| 5⭐ | 381.3 | 79.98 | 57.98 | 66.45 |
| 6⭐ | 383.7 | 81.2 | 59.72 | 69.97 |
| | | |
| --- | --- | --- |
| Nitro Speed: ? km/h | Air Speed: ? km/h | Drift Speed: ? km/h |
Ranks
| Stock | 1⭐ | 2⭐ | 3⭐ | 4⭐ | 5⭐ | 6⭐ |
| --- | --- | --- | --- | --- | --- | --- |
| 3226 | 3408 | 3579 | 3760 | 3949 | 4168 | 4373 |
Blueprints
| 1⭐ | 2⭐ | 3⭐ | 4⭐ | 5⭐ | 6⭐ | Total Blueprints |
| --- | --- | --- | --- | --- | --- | --- |
| 85 | 25 | 29 | 38 | 54 | 69 | 300 |
Upgrades & Import Parts
| Stage | Credits x4 | Total |
| --- | --- | --- |
| Stage 0 | 23.000 | 92.000 |
| Stage 1 | 37.500 | 150.000 |
| Stage 2 | 60.000 | 240.000 |
| Stage 3 | 90.000 | 360.000 |
| Stage 4 | 130.000 | 520.000 |
| Stage 5 | 182.000 | 728.000 |
| Stage 6 | 255.000 | 1.020.000 |
| Stage 7 | 356.500 | 1.426.000 |
| Stage 8 | 499.500 | 1.998.000 |
| Stage 9 | 699.000 | 2.796.000 |
| Stage 10 | 979.000 | 3.916.000 |
| Stage 11 | 1.370.000 | 5.480.000 |
| Stage 12 | 2.250.000 | 9.000.000 |
| Stage 13 | Max | 27.726.000 |
| Import Parts | Amount | Credits | Total |
| --- | --- | --- | --- |
| Common | 28 | 90.000 | 2.520.000 |
| Rare | 20 | 180.000 | 3.600.000 |
| Epic | 16 | 540.000 | 8.640.000 |
| | | Upgrades | 27.726.000 |
| | | Total Cost: | 42.486.000 |
Spania GTA 2015 GTA Spano Gallery
Spania GTA 2015 GTA Spano Description
The Spania GTA Spano is a limited-production sports car produced by Spanish automobile manufacturer Spania GTA, a sister company to GTA Motor Competición. Only 99 units of the GTA Spano are expected to be built.
After 15 years of racing experience in various leagues with Spania GTA Competición, team director Domingo Ochoa wanted to pursue his goal of bringing a Spanish sports car into production. On April 29, 2009, After five years in development, the GTA Spano was first presented to a select group at L'Hemisfèric in the City of Arts and Sciences, Valencia. This pre-production model used an 8.3 L supercharged Viper V10 engine, rated at 780 PS (574 kW) and 920 N⋅m (679 lb⋅ft) of torque on regular pump gas and up to 820 PS (603 kW) on E85 biofuel.
The GTA Spano was first displayed to the public at the 2010 Top Marques Monaco exhibition. It was displayed with the same specifications as the previous year's prototype.
The Spano GTA made its first Geneva Motor Show appearance the following year, in March 2011. This version of the car also used the 8.3 L V10, with three transmission options: a 7-speed automated manual, a 7-speed automated manual, with paddle-shifters, and a 7-speed manual.
Tags
Asphalt 9 Spania GTA 2015 GTA Spano
Spania GTA 2015 GTA Spano Upgrades
Spania GTA 2015 GTA Spano Import Parts
Spania GTA 2015 GTA Spano Blueprints
Spania GTA 2015 GTA Spano Credits
Spania GTA 2015 GTA Spano Max Stats
(Visited 76 times, 2 visits today)
Tags:
Class S Car
,
Spania GTA
,
Update 29