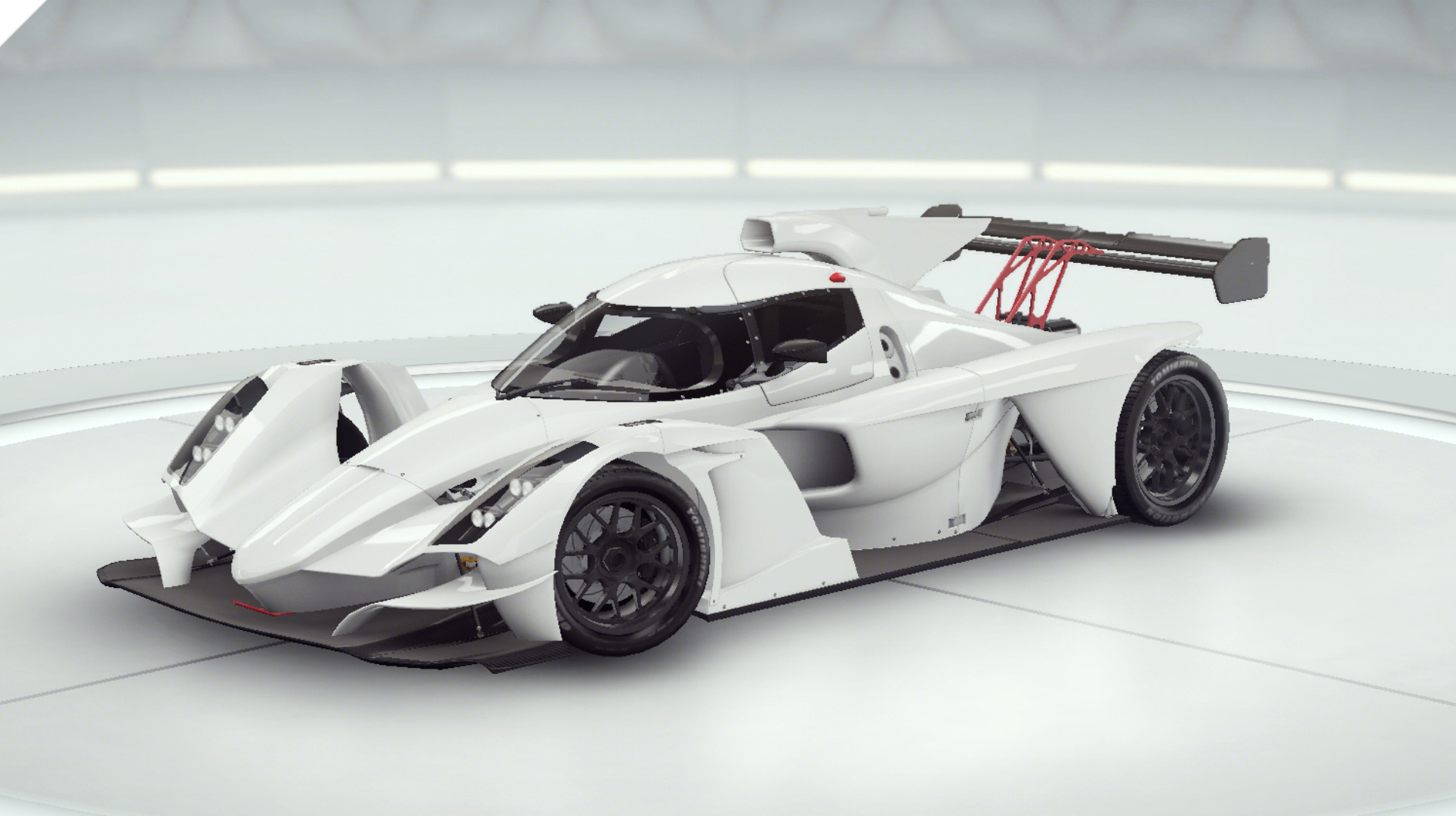 Car Information
| Class | Type | ⛽ Fuel | ⏱ Refill Time | In Game |
| --- | --- | --- | --- | --- |
| D | Rare | 5 | 15 Minutes | Update 28 – 12/2022 |
Performance Data
| | | | | |
| --- | --- | --- | --- | --- |
| Max 4⭐ | Topspeed | Acceleration | Handling | Nitro |
| Stock | 268 | 74,80 | 42,12 | 38,73 |
| 1⭐ | 271,6 | 77,45 | 46,2 | 44,23 |
| 2⭐ | 275,5 | 80,79 | 51,37 | 49,92 |
| 3⭐ | 279,6 | 84,2 | 56,67 | 55,75 |
| 4⭐ | 283,3 | 87,80 | 62,25 | 60,92 |
| | | |
| --- | --- | --- |
| Nitro Speed: ? km/h | Air Speed: ? km/h | Drift Speed: ? km/h |
Ranks
| Stock | 1⭐ | 2⭐ | 3⭐ | 4⭐ |
| --- | --- | --- | --- | --- |
| 1151 | 1488 | 1864 | 2253 | 2624 |
Blueprints
| 1⭐ | 2⭐ | 3⭐ | 4⭐ | Total Blueprints |
| --- | --- | --- | --- | --- |
| 30 | 23 | 33 | 42 | 128 |
Upgrades & Import Parts
| Stage | Credits x4 | Total |
| --- | --- | --- |
| Stage 0 | 4.370 | 17.480 |
| Stage 1 | 7.100 | 28.400 |
| Stage 2 | 11.400 | 45.600 |
| Stage 3 | 17.100 | 68.400 |
| Stage 4 | 24.700 | 98.800 |
| Stage 5 | 34.500 | 138.000 |
| Stage 6 | 48.500 | 194.000 |
| Stage 7 | 68.000 | 272.000 |
| Stage 8 | 95.000 | 380.000 |
| Stage 9 | 133.000 | 532.000 |
| Stage 10 | 186.000 | 744.000 |
| Stage 11 | Max | 2.518.680 |
| Import Parts | Amount | Credits | Total |
| --- | --- | --- | --- |
| Common | 28 | 20.000 | 560.000 |
| Rare | 8 | 40.000 | 320.000 |
| Epic | 4 | 120.000 | 480.000 |
| | | Upgrades | 2.518.680 |
| | | Total Cost: | 3.878.680 |
Praga R1 Gallery
coming soon
Praga R1 Description
The Praga R1 is a sportscar made by Czech car manufacturer Praga Racing. The cars raced on the Supercar Challenge and the Britcar Endurance Championship.
The first Praga R1 was built in 2012. Official Praga testdriver Danny van Dongen drove the car for the first time on October 10, 2012. Production of the R1 began in March 2013.
On 15 November 2012 the Supercar Challenge organisation in conjunction with Praga Racing and Radical Benelux launched a new racing class. The Supercar Challenge Superlights would feature four sub-classes, one for the Praga R1, one for the Radical SR8, one for the Radical SR3 and one for Group CN cars.
Tags
Asphalt 9 Praga R1
Praga R1 Upgrades
Praga R1 Import Parts
Praga R1 Blueprints
Praga R1 Credits
Praga R1 Max Stats
(Visited 2,387 times, 4 visits today)
Tags:
Class D Car
,
Praga
,
Update 28