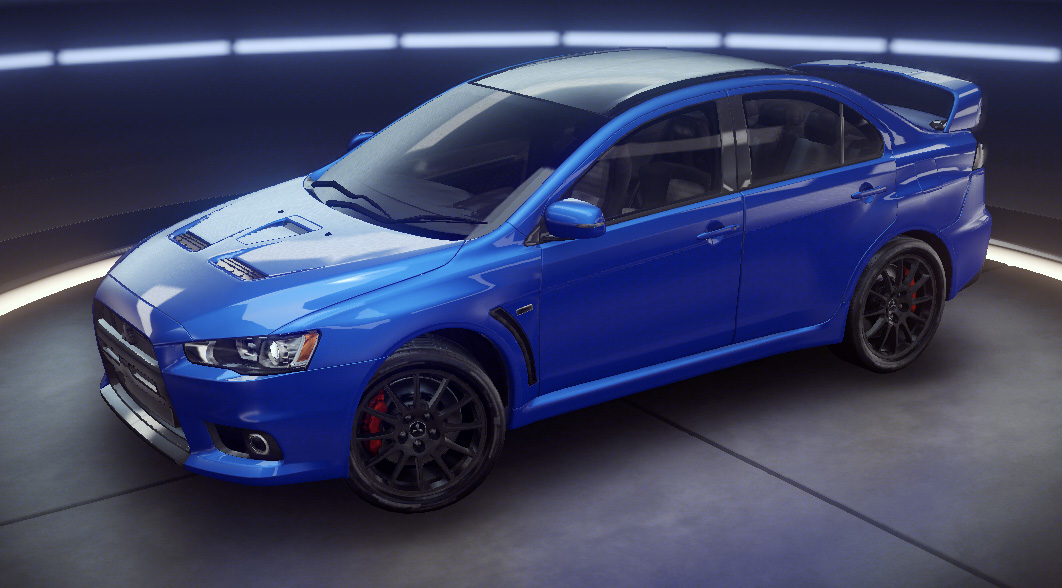 Car Information
| Class | Type | ⛽ Fuel | ⏱ Refill Time | In Game |
| --- | --- | --- | --- | --- |
| D | Uncommon | 6 | 5 Minutes | since Release |
Performance Data & Ranks
| | | | |
| --- | --- | --- | --- |
| Speed in km/h | Acceleration | Handling | Nitro |
| Max 3⭐ | Top Speed | Acceleration | Handling | Nitro |
| --- | --- | --- | --- | --- |
| Stock | 250 | 42,2 | 46,3 | 54,8 |
| 1⭐ | 255,7 | 46,02 | 48,45 | 58,66 |
| 2⭐ | 262,4 | 50,21 | 50,93 | 63,1 |
| 3⭐ | 270,1 | 55,03 | 53,79 | 68,19 |
| | | |
| --- | --- | --- |
| Nitro Speed: 282 km/h | Air Speed: 363 km/h | Drift Speed: 185 km/h |
Ranks
| Stock | 1⭐ | 2⭐ | 3⭐ |
| --- | --- | --- | --- |
| 467 | 728 | 1031 | 1381 |
Blueprints
| 1⭐ | 2⭐ | 3⭐ | Total Blueprints |
| --- | --- | --- | --- |
| 5 | 8 | 30 | 43 |
Upgrades & Import Parts
| Stage | Credits x 4 | Total |
| --- | --- | --- |
| Stage 0 | 1.150 | 4.600 |
| Stage 1 | 1.900 | 7.600 |
| Stage 2 | 3.000 | 12.000 |
| Stage 3 | 4.500 | 18.000 |
| Stage 4 | 6.500 | 26.000 |
| Stage 5 | 9.000 | 36.000 |
| Stage 6 | 12.500 | 50.000 |
| Stage 7 | 18.000 | 72.000 |
| Stage 8 | 25.000 | 100.000 |
| Stage 9 | 35.000 | 140.000 |
| Stage 10 | Max | 466.200 |
| Import Parts | Amount | Credits | Total |
| --- | --- | --- | --- |
| Common | 20 | 5.000 | 100.000 |
| Rare | 4 | 10.000 | 40.000 |
| Epic | 0 | 0 | 0 |
| | | Upgrades | 466.200 |
| | | Total Cost: | 606.200 |
Mitsubishi Lancer Evolution Description
The Lancer Evolution X sedan features a newly designed 4B11T 2.0L (1,998 cc) turbocharged, all-aluminium inline-4 GEMA engine. Power and torque depend on the market but all versions have at least 276 hp (206 kW) (JDM version). The American market version has slightly more. The UK models will be reworked by Mitsubishi UK, in accordance with previous MR Evolutions bearing the FQ badge. Options for the UK Evolutions are expected to be between 295 hp (220 kW) and 360 hp (268 kW).
Version
Two versions of the car are offered in the U.S.: the Lancer Evolution MR, with a 6-speed Twin Clutch Sportronic Shift transmission (TC-SST). The other version is the GSR which has a 5-speed manual transmission system. The car also has a new full-time all-wheel drive system named S-AWC (Super All Wheel Control), an advanced version of Mitsubishi's AWC system used in previous generations. The S-AWC uses torque vectoring technology to send different amounts of torque to the rear wheels.
It also features Mitsubishi's new sequential semi-automatic six speed SST twin-clutch transmission with steering-mounted magnesium alloy shift paddles. It has replaced the Tiptronic automatic transmission, hence the SST version replacing the GT-A version (which was used in Evolution VII and Evolution IX Wagon). A five speed manual gearbox is also available. The new Lancer Evolution also incorporates Mitsubishi's next generation RISE safety body.
Sales
The Evolution X went on sale October 1, 2007 in Japan, January 2008 in the USA, February in Canada (as the first version of Evolution in Canada), and in March 2008 in the UK. The Twin Clutch SST version was available in Japan from November 2007. Europe followed with sales in May, with the GSR and MR versions included along with the Premium Package. The introduction of the 2010 MR-Touring moved the car even further upscale. Leather and a Moonroof became standard while revising the rear spoiler to just a lip spoiler.
Production
In 2015, Mitsubishi ended the production of the Lancer Evolution X. A limited edition "farewell" model, the Final Edition, was produced for the Lancer's final production year, with only 1,600 models being produced for United States market, another 1,600 for Japan, 350 for Canada, and 150 for Australia. All models are based on the GSR trim and features a black roof, black Enkei rims, and a special "Final Edition" emblem.
Tags
Asphalt 9 Mitsubishi
Mitsubishi Upgrades
Mitsubishi Import Parts
Mitsubishi Import Parts
(Visited 29,749 times, 17 visits today)
Tags:
Cars
,
Class D Car