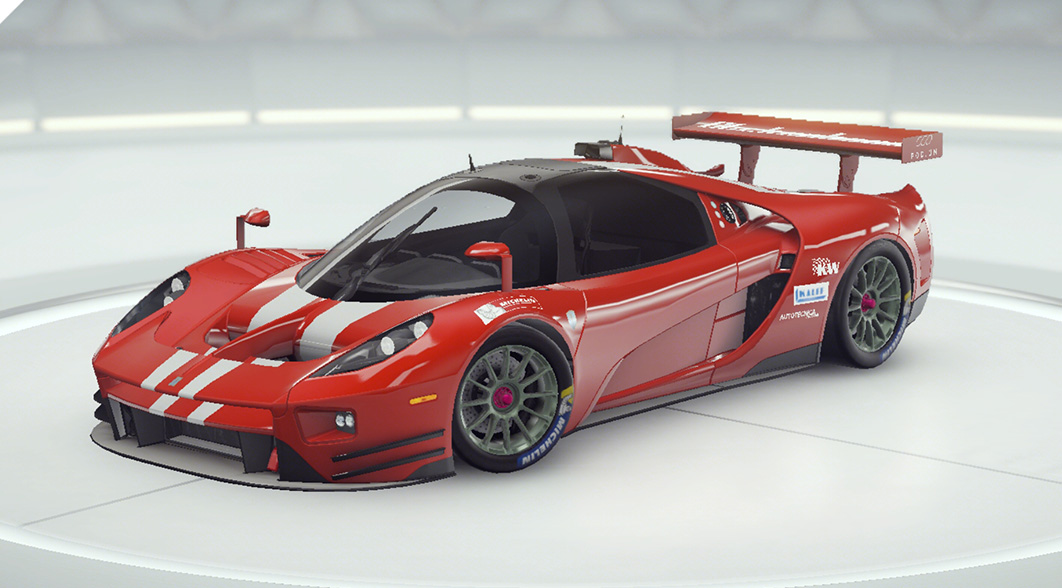 Car Information
| Class | Type | ⛽ Fuel | ⏱ Refill Time | In Game |
| --- | --- | --- | --- | --- |
| D | Epic | 4 | 1:15 Hours | Update 27 – 09/2022 |
Performance Data
| Max 5⭐ | Topspeed | Acceleration | Handling | Nitro |
| --- | --- | --- | --- | --- |
| Stock | 298 | 70.30 | 40.47 | 36.15 |
| Max | 311.2 | 76.75 | 56.89 | 60.87 |
| | | |
| --- | --- | --- |
| Nitro Speed: ? km/h | Air Speed: ? km/h | Drift Speed: ? km/h |
Ranks
| Stock | 1⭐ | 2⭐ | 3⭐ | 4⭐ | 5⭐ |
| --- | --- | --- | --- | --- | --- |
| 1524 | 1726 | 1964 | 2217 | 2550 | 3075 |
Blueprints
| 1⭐ | 2⭐ | 3⭐ | 4⭐ | 5⭐ | Total Blueprints |
| --- | --- | --- | --- | --- | --- |
| Key | 22 | 30 | 35 | 38 | 125 |
Upgrades & Import Parts
| | | |
| --- | --- | --- |
| Stage | Credits x4 | Total |
| Stage 0 | 6.440 | 25.760 |
| Stage 1 | 10.500 | 42.000 |
| Stage 2 | 16.800 | 67.200 |
| Stage 3 | 25.200 | 100.800 |
| Stage 4 | 36.400 | 145.600 |
| Stage 5 | 51.000 | 204.000 |
| Stage 6 | 71.500 | 286.000 |
| Stage 7 | 100.000 | 400.000 |
| Stage 8 | 140.000 | 560.000 |
| Stage 9 | 196.000 | 784.000 |
| Stage 10 | 274.000 | 1.096.000 |
| Stage 11 | 384.000 | 1.536.000 |
| Stage 12 | Max | 5.247.360 |
| | | | |
| --- | --- | --- | --- |
| Import Parts | Amount | Credits | Total |
| Common | 36 | 30.000 | 1.080.000 |
| Rare | 16 | 60.000 | 960.000 |
| Epic | 8 | 180.000 | 1.440.000 |
| | | Upgrades | 5.247.360 |
| | | Total Cost: | 8.727.360 |
Glickenhaus 004C Gallery
Coming Soon
Glickenhaus 004C Description
The Scuderia Cameron Glickenhaus SCG 004 is a sports car developed and manufactured by American boutique car maker Scuderia Cameron Glickenhaus LLC. It is the manufacturer's second model after the 003 of 2017.
The SCG 004S was unveiled by Scuderia Cameron Glickenhaus in November 2017. In August 2020, the manufacturer presented the production version of the 004S and announced the start of production for October 2020 at the Connecticut plant in the United States.
The SCG 004C or "Competizione" (Competition) is the racing variant of the 004 series. The car is developed to ultimately serve as a platform for LM GTE, GTLM, GT3, and GT4 categories as well as Germany's NLS series. It's powered by the 6.2-liter naturally aspirated V8 engine based on GM's LT4 block, developed by Autotechnica Motori. The car made its debut in the 2020 24 Hours of Nürburgring and finished 14th overall. In 2022 it was confirmed that Glickenhaus aimed for the car to make its Le Mans debut in the GT3 class in 2024.
Tags
Asphalt 9 Glickenhaus 004C
Glickenhaus 004C Upgrades
Glickenhaus 004C Import Parts
Glickenhaus 004C Blueprints
Glickenhaus 004C Credits
Glickenhaus 004C Max Stats
(Visited 7,950 times, 26 visits today)
Tags:
Class D Car
,
Glickenhaus
,
Grand Prix Event Cars
,
Update 27