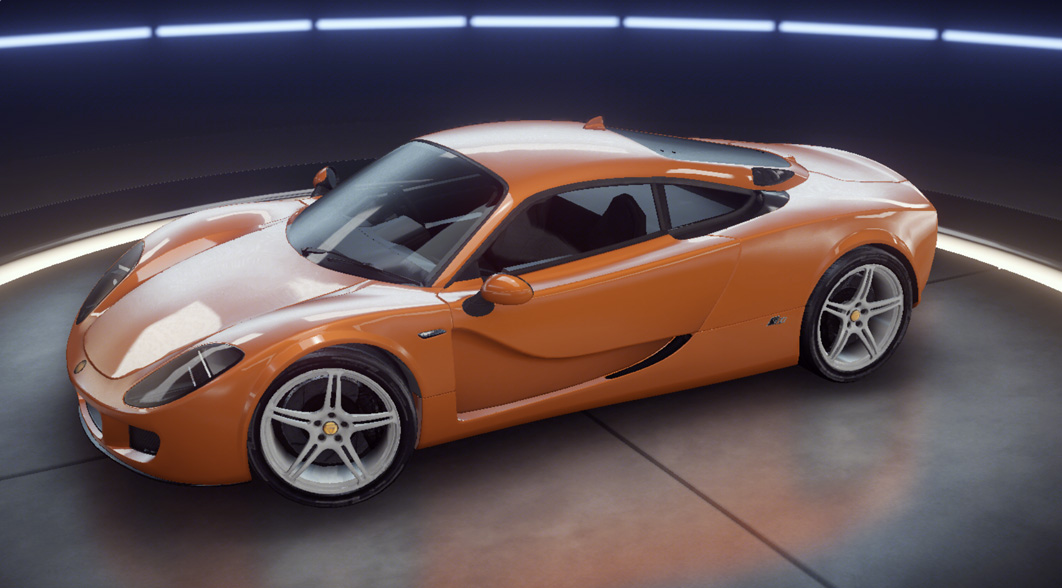 Car Information
| Class | Type | ⛽ Fuel | ⏱ Refill Time | In Game |
| --- | --- | --- | --- | --- |
| D | Rare | 5 | 15 Minutes | Update 6 – 06/2022 |
Performance Data
| | | | | |
| --- | --- | --- | --- | --- |
| Max 4⭐ | Topspeed | Acceleration | Handling | Nitro |
| Stock | 275 | 57.7 | 54.48 | 46.29 |
| 1⭐ | 279 | 60.52 | 58.63 | 50.36 |
| 2⭐ | 282.9 | 64.07 | 63.84 | 54.56 |
| 3⭐ | 287 | 67.71 | 69.19 | 58.85 |
| 4⭐ | 290.7 | 71.51 | 74.81 | 62.66 |
| | | |
| --- | --- | --- |
| Nitro Speed: 303 km/h | Air Speed: 388 km/h | Drift Speed: 224 km/h |
Ranks
| Stock | 1⭐ | 2⭐ | 3⭐ | 4⭐ |
| --- | --- | --- | --- | --- |
| 1181 | 1517 | 1891 | 2277 | 2646 |
Blueprints
| 1⭐ | 2⭐ | 3⭐ | 4⭐ | Total Blueprints |
| --- | --- | --- | --- | --- |
| 30 | 23 | 33 | 42 | 128 |
Upgrades & Import Parts
| Stage | Credits x4 | Total |
| --- | --- | --- |
| Stage 0 | 4.370 | 17.480 |
| Stage 1 | 7.100 | 28.400 |
| Stage 2 | 11.400 | 45.600 |
| Stage 3 | 17.100 | 68.400 |
| Stage 4 | 24.700 | 98.800 |
| Stage 5 | 34.500 | 138.000 |
| Stage 6 | 48.500 | 194.000 |
| Stage 7 | 68.000 | 272.000 |
| Stage 8 | 95.000 | 380.000 |
| Stage 9 | 133.000 | 532.000 |
| Stage 10 | 186.000 | 744.000 |
| Stage 11 | Max | 2.518.680 |
| Import Parts | Amount | Credits | Total |
| --- | --- | --- | --- |
| Common | 28 | 20.000 | 560.000 |
| Rare | 8 | 40.000 | 320.000 |
| Epic | 4 | 120.000 | 480.000 |
| | | Upgrades | 2.518.680 |
| | | Total Cost: | 3.878.680 |
Ginetta G60 Description
The Ginetta G60 is a mid-engined sports car produced by British car manufacturer Ginetta Cars, based on the Ginetta F400, which itself was based on the Farbio GTS.
The G60 is powered by a 3,727 cc (3.7 L) Ford Cyclone V6 engine producing 310 bhp (231 kW; 314 PS) at 6,500rpm and 288 lb⋅ft (390 N⋅m) of torque at 4,500rpm. The car was developed with driver focus in mind and therefore lacks an Anti-lock braking system, power steering and other modern technologies. It is constructed with a carbon fibre skin on a tubular steel chassis with a carbon fibre tub to maintain a low weight of 1,080 kg (2,380 lb). The interior is fairly basic and features Alcantara trim with a touch screen in the carbon fibre centre console to control all the features i.e. the satellite navigation system, climate control, audio system and air conditioning. A carbon fibre steering wheel with silver gauges along with bucket seats complete the interior.
The G60 can accelerate from a standstill to 60 mph in 4.9 seconds, with a top speed of 165 mph (265.5 km/h).
Tags
Asphalt 9 Ginetta G60
Ginetta G60 Upgrades
Ginetta G60 Import Parts
Ginetta G60 Blueprints
Ginetta G60 Credits
Ginetta G60 Max Stats
(Visited 20,138 times, 4 visits today)
Tags:
Class D Car
,
Update 6