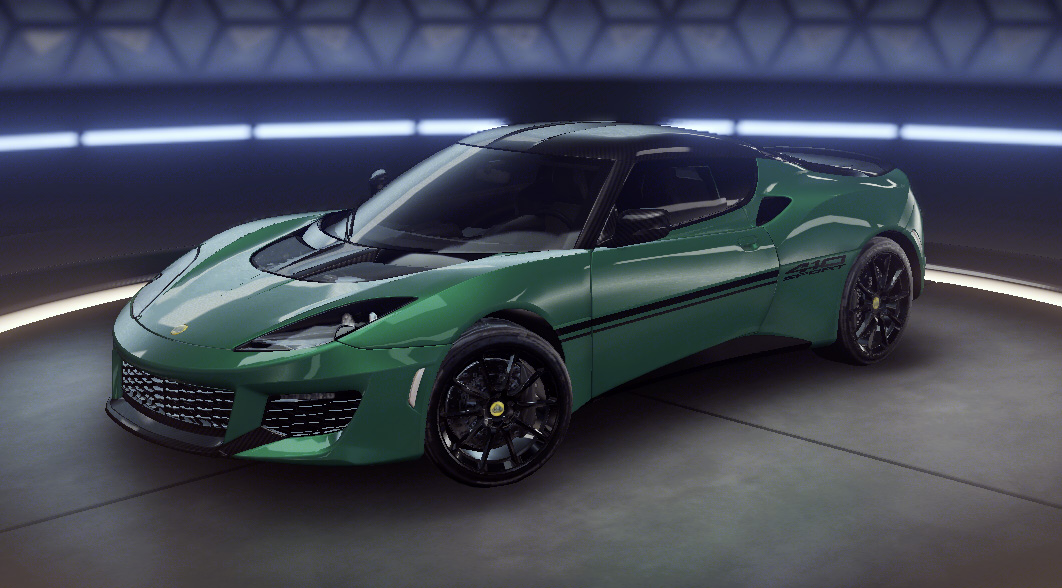 Car Information
| Class | Type | ⛽ Fuel | ⏱ Refill Time | In Game |
| --- | --- | --- | --- | --- |
| C | Uncommon | 6 | 30 Minutes | Release |
Performance Data
| Max  3⭐ | Topspeed | Acceleration | Handling | Nitro |
| --- | --- | --- | --- | --- |
| Stock | 300 | 62.2 | 44.09 | 36.32 |
| 1⭐ | 305.8 | 65.08 | 46.16 | 39.8 |
| 2⭐ | 312.5 | 68.92 | 48.93 | 43.88 |
| 3⭐ | 317.7 | 71.7 | 50.93 | 47.05 |
| | | |
| --- | --- | --- |
| Nitro Speed: 331 km/h | Air Speed: 422 km/h | Drift Speed: 290 km/h |
Ranks
| Stock | 1⭐ | 2⭐ | 3⭐ |
| --- | --- | --- | --- |
| 1086 | 1411 | 1814 | 2123 |
Blueprints
| 1⭐ | 2⭐ | 3⭐ | Total Blueprints |
| --- | --- | --- | --- |
| 20 | 20 | 50 | 90 |
Upgrades & Import Parts
| Stage | Credits x4 | Total |
| --- | --- | --- |
| Stage 0 | 1.500 | 6.000 |
| Stage 1 | 2.400 | 9.600 |
| Stage 2 | 3.900 | 15.600 |
| Stage 3 | 5.900 | 23.600 |
| Stage 4 | 8.500 | 34.000 |
| Stage 5 | 12.000 | 48.000 |
| Stage 6 | 16.500 | 66.000 |
| Stage 7 | 23.000 | 92.000 |
| Stage 8 | 32.500 | 130.000 |
| Stage 9 | 45.500 | 182.000 |
| Stage 10 | Max | 606.800 |
| | | | |
| --- | --- | --- | --- |
| Import Parts | Amount | Credits | Total |
| Common | 16 | 10.000 | 160.000 |
| Rare | 4 | 20.000 | 80.000 |
| Epic | 4 | 60.000 | 240.000 |
| | | Upgrades | 606.800 |
| | | Total Cost: | 1.086.800 |
Lotus Evora Sport 410 Description
At the 2016 Geneva Motor Show, Lotus unveiled the Evora Sport 410, a slightly enhanced version of the 400.[18] The car's 3.5-liter Toyota-derived V6 received a power increase by 10 hp (7 kW; 10 PS), for a total of 410 hp (306 kW; 416 PS). The torque was also improved to 310 lb⋅ft (420 N⋅m).
The exterior was changed with the addition of a carbon-fibre roof, tailgate and front access panel. The wheels were further lightened and a lithium-ion battery was fitted rather than the traditional lead acid version. Inside, the rear seats were removed and one-piece carbon-fibre bucket seats were fitted. Overall weight was reduced to 1,325 kg (2,921 lb).
The performance figures were improved with the 0-60 mph (97 km/h) acceleration time now at 3.9 seconds, and a top speed of 190 mph (306 km/h). However, if the IPS automatic transmission system is used, top speed is reduced to 174 mph (280 km/h).
Lotus Cars
Tags
Asphalt 9 Lotus Evora Sport 410
Lotus Evora Sport 410 Upgrades
Lotus Evora Sport 410 Import Parts
Lotus Evora Sport 410 Blueprints
Lotus Evora Sport 410 Credits
Lotus Evora Sport 410 Max Stats
(Visited 14,246 times, 4 visits today)
Tags:
Cars
,
Class C Car
,
Lotus